Permissions and Security
OK, so a little bit more on security...
I'm not testing on a secure server at the moment, so I guess I can't say that data transferred between pages is secure. But obviously this will be fixed when I get the server.
Passwords are not passwords but passhashes. A password can never be revealed.
Usernames have something called a userhash that changes every single time it is accessed, changed etc... Why is this even relevant? It's to prevent cookie hijacking. If a user sets a cookie and the userhash doesn't look right to the server it will just reject it. It's pretty cool. It means that the server sets 2 cookies on the client-side, and these cookies must then correspond in order to work. I'd say that it is impossible to hack.
There are a lot of permissions... what you see in the screenshot above are just the tables, but you should see the fields in those tables... talk about extensive... like phpBB3, I am allowing administrative users to set permissions on pretty much everything.
Problem users are going to be easy to filter out. Every action a user makes is logged, so their IP address is logged, the date and time they performed this action is logged, and the type of action they are making is logged, the old values and the new values are logged.
The reporting tool in the admin's control panel is going to be very easy to use. It will be easy to run a report to find out if there is a problem user, constantly registering new usernames from the same IP address, or even from different IP addresses but in quick successions. It will be easy to find out users that are trying to break the secure cookie system because even these IP addresses are logged. These IP addresses can trace back to known IP addresses used by users, even if they logged in to the website once from that IP address 3 years ago.
So, even when a new forum category or subcategory is made, the IP address is logged, the user making that new set of data is logged, and of course the date and time of the transaction is logged. This is the same with posts.
Perma-delete's are going to be pretty spectacular also... Just don't ask how they are going to be spectacular, I just know they are, I have something in my head right now...
Any more questions or suggestions?
Update:
After some cookie testing today, I can confirm that the cookies actually work! I was surprised at first, I really didn't think that this method would work. Probably a bit too secure. At least now I can definitely be sure that nobody will be imitating somebody else.
Code:
new cookie set, aaron_forum_userid = 1
new cookie set, aaron_forum_userhash = c046175ed8c5c7bdd8393bed03c7f7b5
user_changelog updated, userhash updated from 404272906316abe70930f9dbd5d66df3 to c046175ed8c5c7bdd8393bed03c7f7b5
user updated, userhash updated to c046175ed8c5c7bdd8393bed03c7f7b5
And here's a screenshot: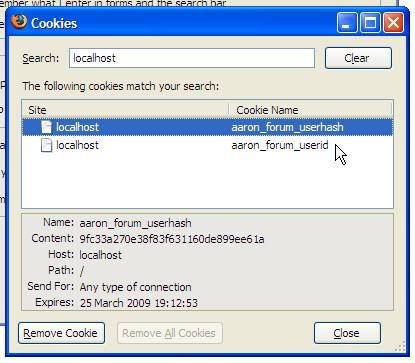 I think that this is the first time I have wrote about 30 lines of PHP and the website didn't break. In fact, everything work perfectly first time! This is probably as a result of my very thorough planning.
So far...
It looks like this...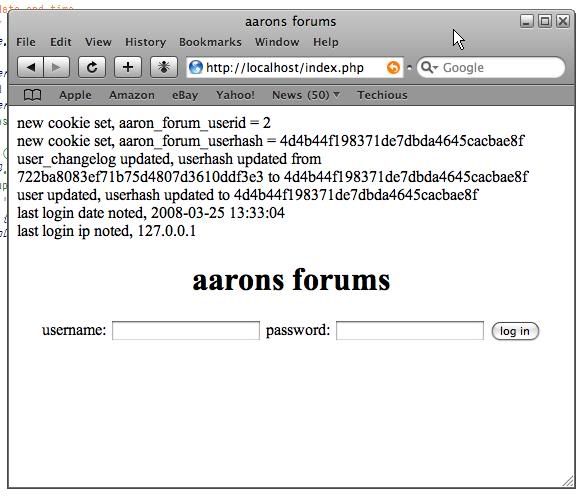 So yes, I'm as far as making sure that the cookies actually work right now. I've not yet settled on a unique (enough) design for the forums. I'm trying to perfect everything just one step at a time.