So, I made a new character on the Techious account called: Techious.
Techious the Troubador.
Basically, this is how the game starts out...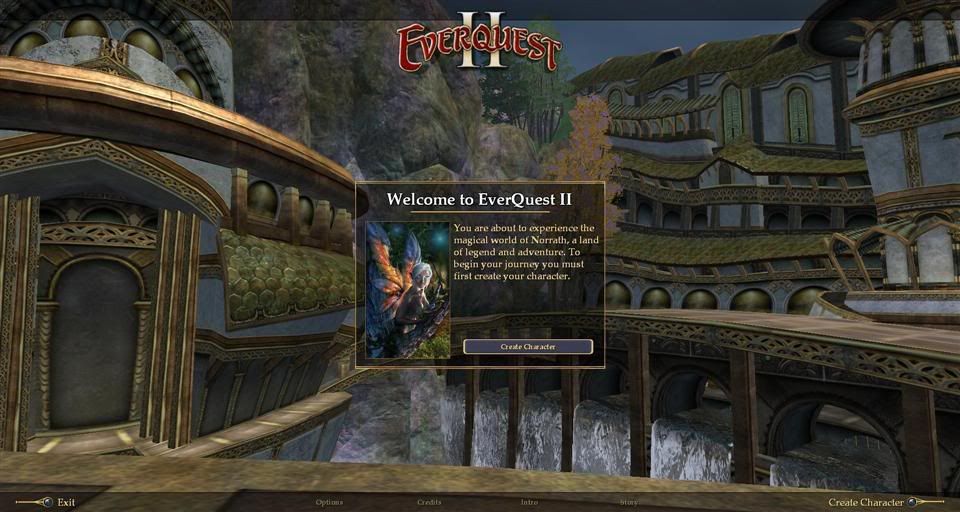 The welcome screen!
Mid way through customisation of this character, there are a lot of options available
The first few windows you see, a new quest to accept and the welcome box (at this point I also import my UI settings from my other toon Stubble)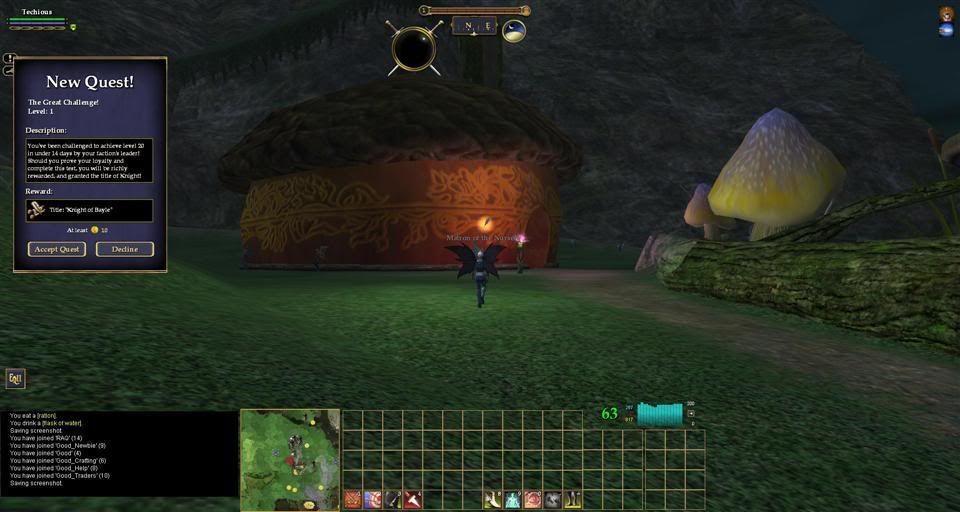 The clutter out of the way, the new quest is ready to be accepted
At this point, the game gives you tips on how to move and target and attack, but I have disabled those tooltips.
Techious isn't very powerful at the moment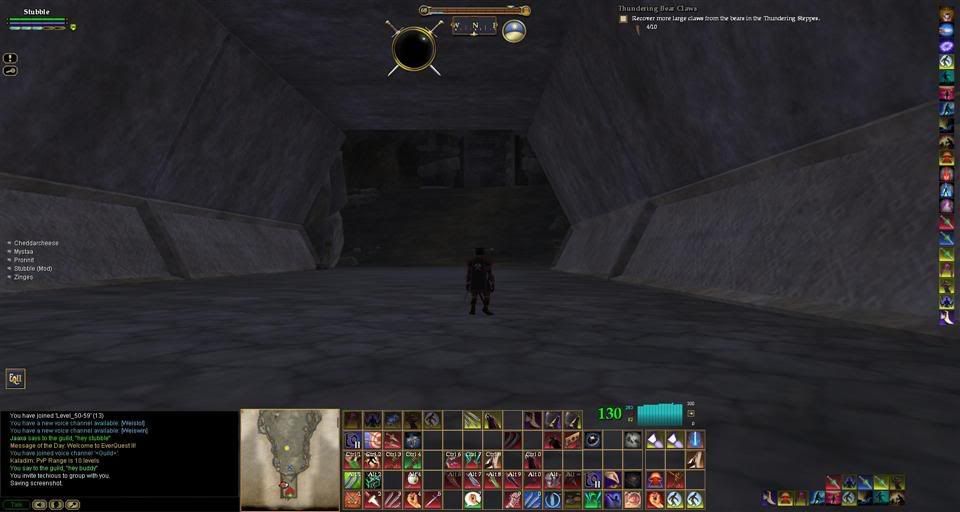 Meanwhile, Stubble has just logged in (in Extreme Performance graphics mode) and is sitting in Kaladim, a Level 60+ zone
Stubble sends an invite to Techious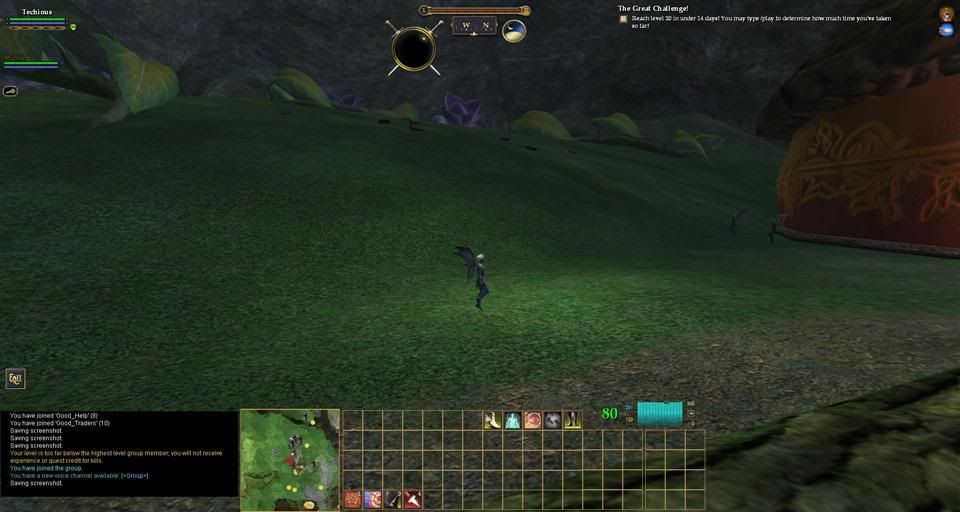 Stubble is too high above Techious' level (the message at the bottom of the screen)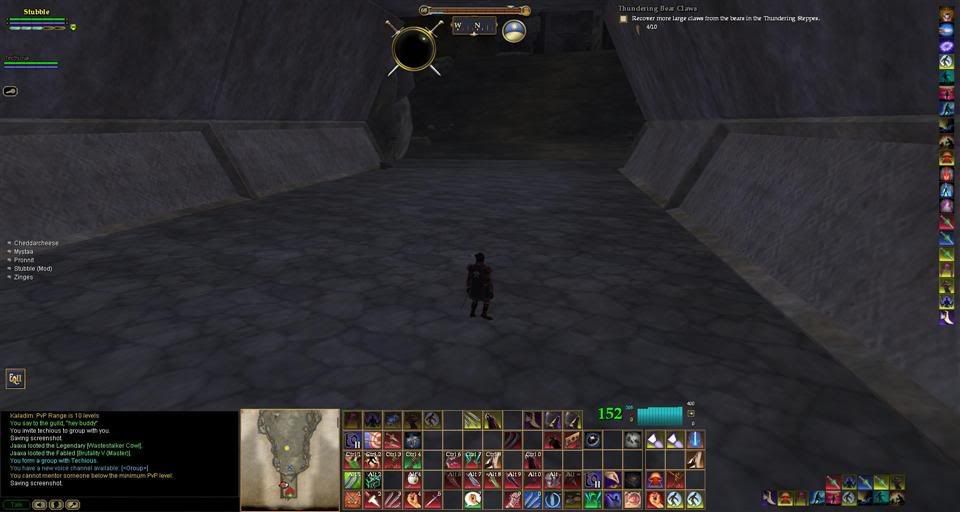 On Stubble's end... he is trying to mentor, but can't because Techious is Level 1, and needs to be at least Level 10!
So I get to work...
Techious starts killing these little rock worm baby elemental things for his first quest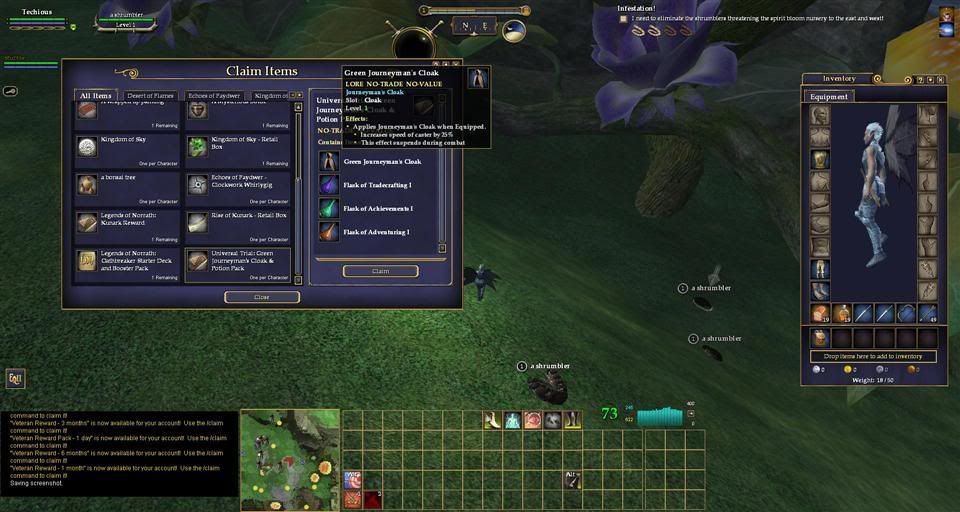 Techious then realises half way through killing them that this is an AWESOME TRIAL ACCOUNT! It wins him a cool cloak that makes him run 25% faster.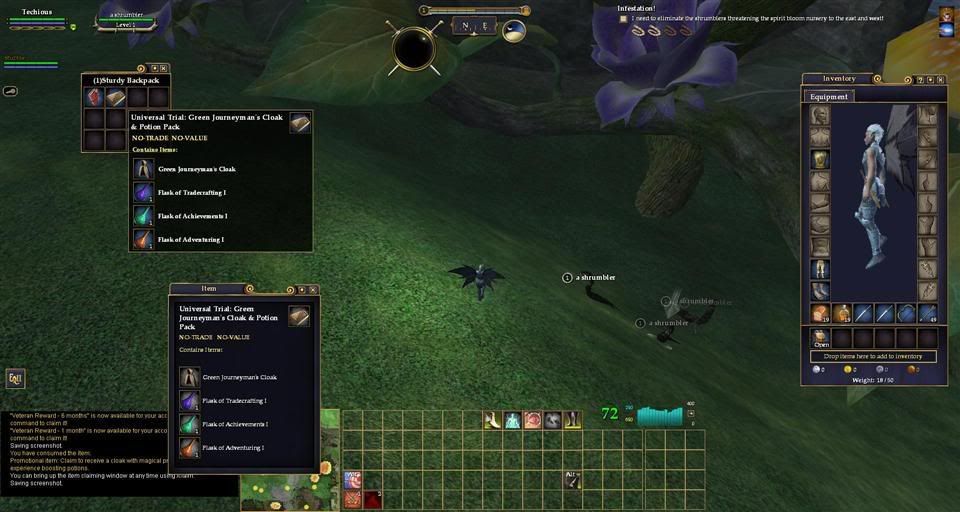 I claim the item, and it is in the inventory as a 'pack' containing the cloak and some experience boosting potions
There it is, I just double click on it to equip
Killing...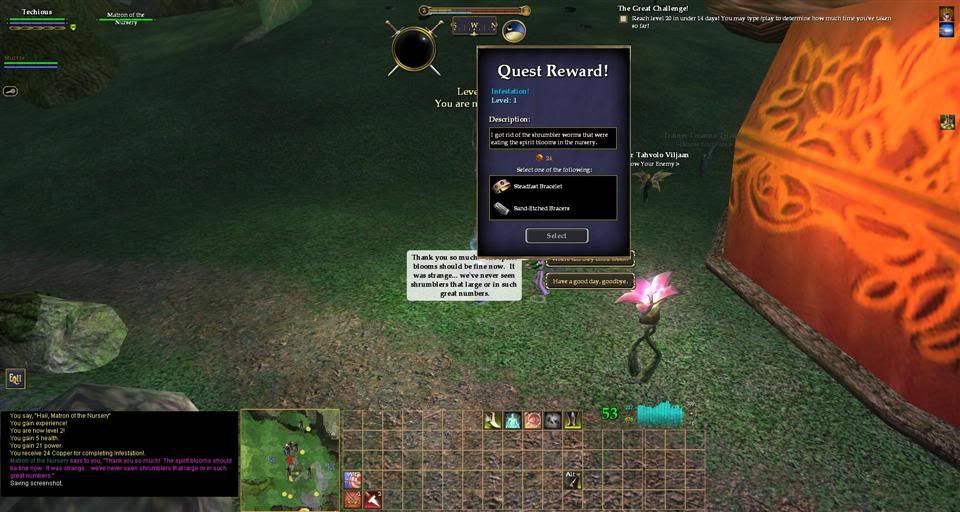 Level 2 from that

it is so fast to gain levels... All the above completed in under 2 minutes.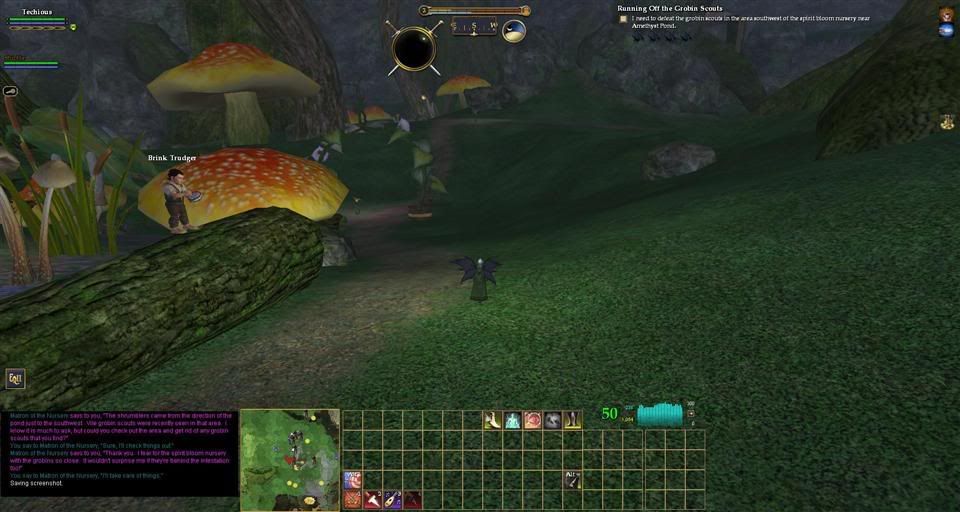 Techious turns around - there is another quest in the distance
Some girl crying about bees, she wants you to swat them down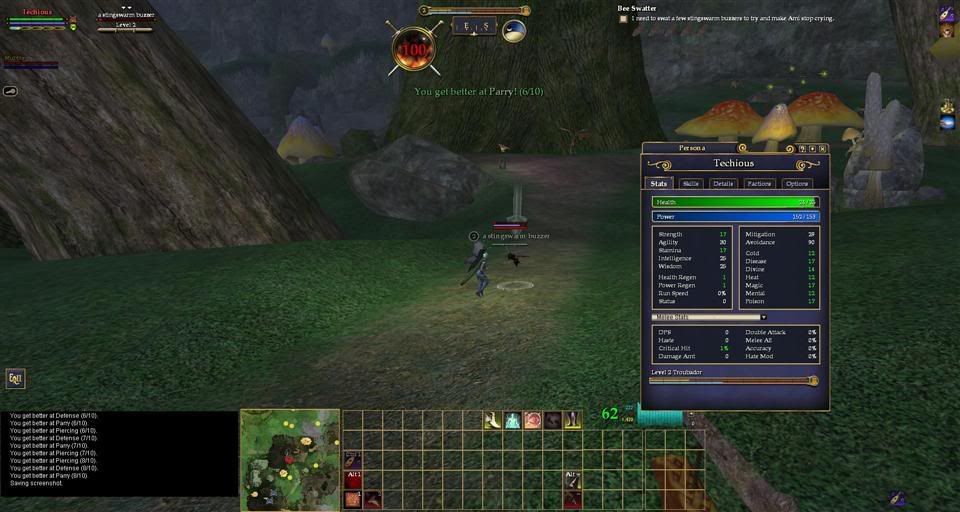 Beating up a bee, the skills are raising extremely fast since the new game update, it used to be a super grind, making it difficult to maximise the skills for your level, but now it is very easy! The defense, parry, piercing, slashing etc skills are going up. When they go up, they increase your chances of blocking, avoiding, and hitting the enemy, for example.
Level 3 came around very quickly.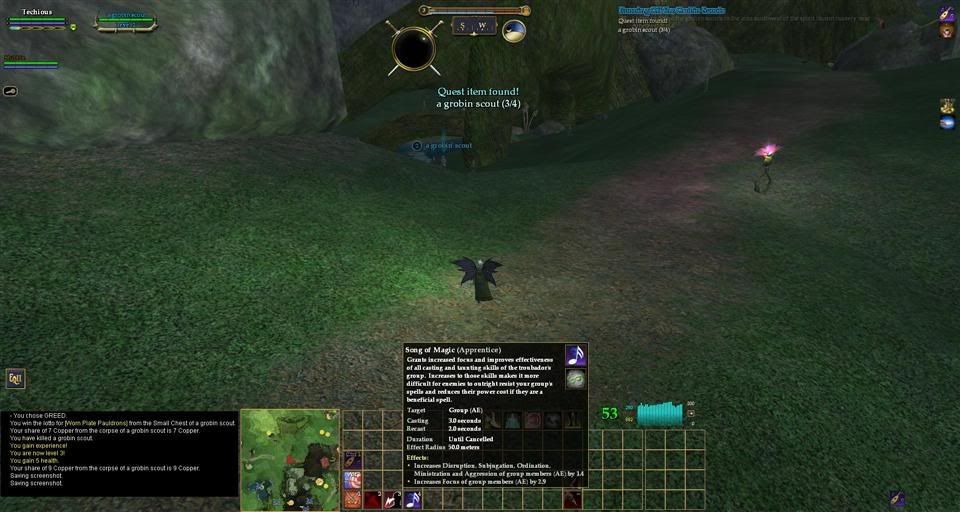 Got a nice new buff for groupmates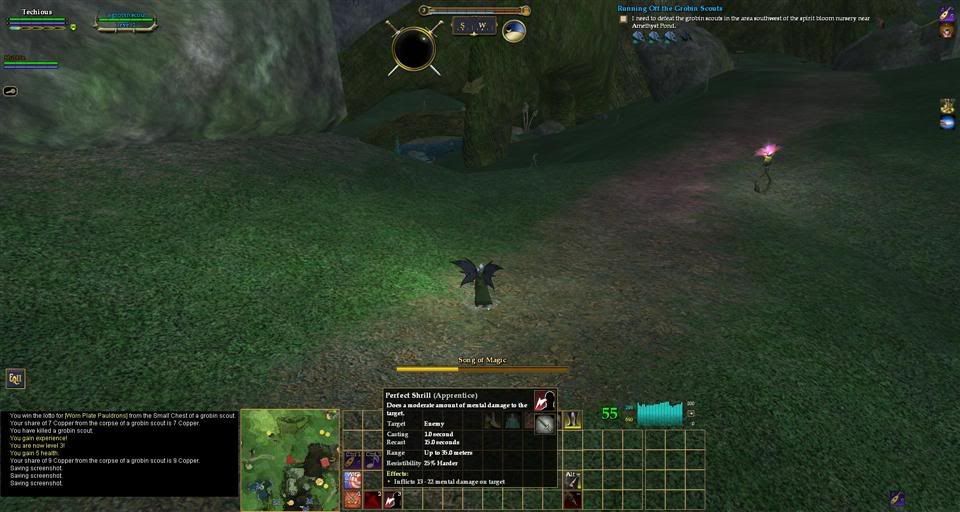 And a damage spell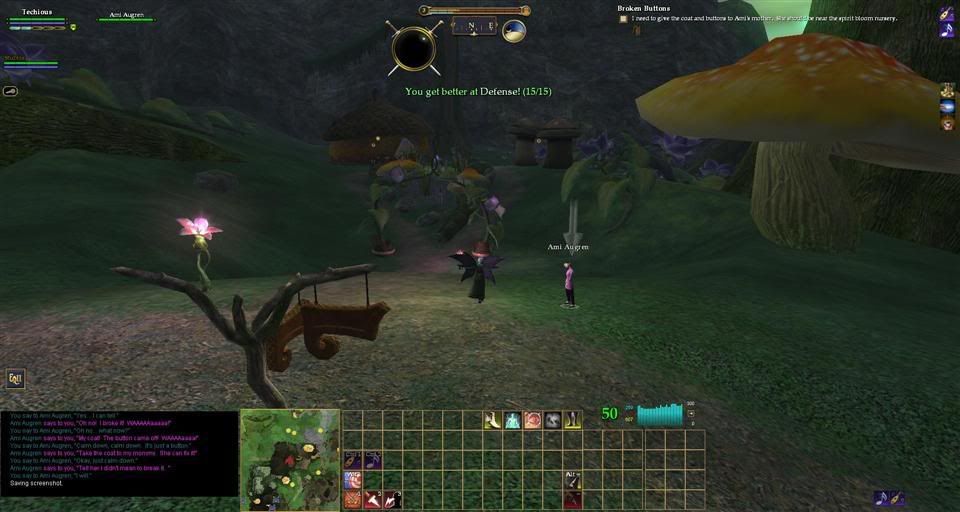 After handing in the bee quest, I see some more quests in the distance, back from where I came
Now I have a Level 3 quest and 2 Level 4 quests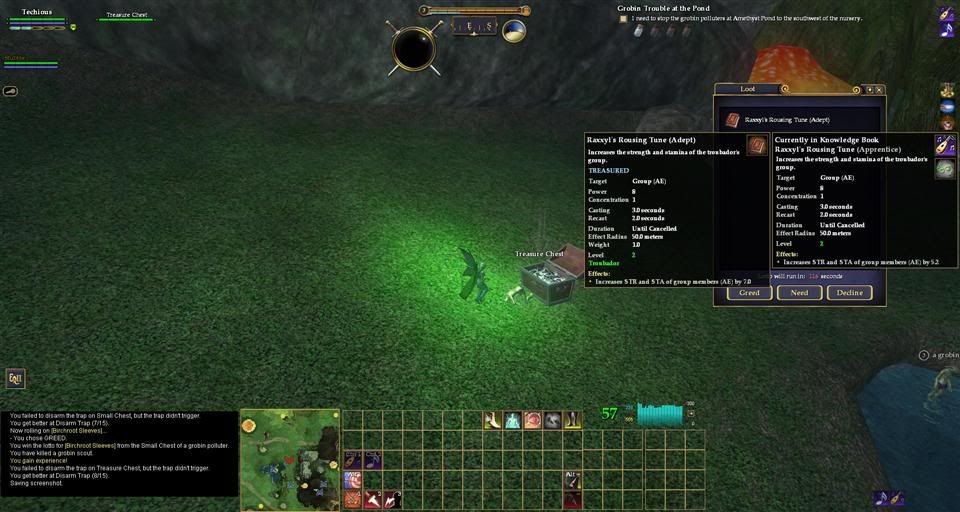 Killed a creature and it dropped an upgrade to my Strength and Stamina groupwide buff
Hit Level 4 after killing a couple more creatures... it is extremely fast.
I get a new buff - the speed buff! With the 25% boost from the cloak and the 16% for this groupwide buff, he runs at 41%... My Level 68 Brigand runs at 40% and this dude is only Level 4!!!
Techious is getting stronger!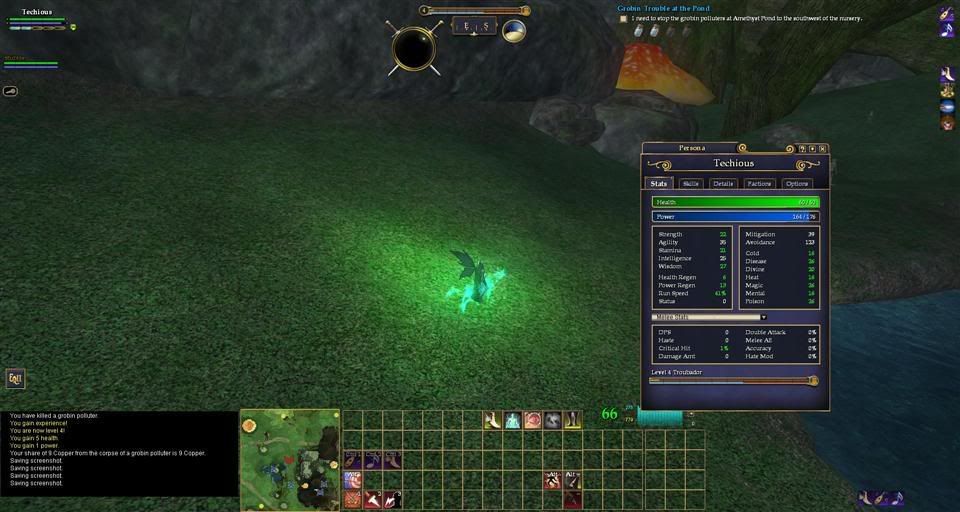 The 41% run speed visible on screen
An upgrade to the song (buff) that enhances casting ability of group members - Troubadors mainly asist spell casting groups but also provide melee buffs as well!
Speaking of buffs... here's a buff that you have to achieve through the Alternate Advancement system (AA), it enhances all criticals by 7.5%, which when augmenting all group members can make a huge difference!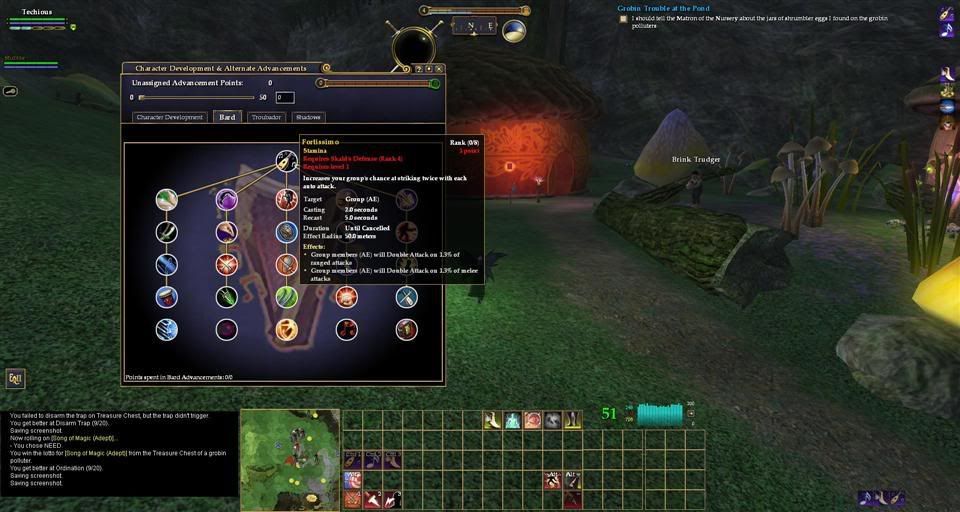 Here's another earned buff that increases double attack chances for every rank it goes up. 8 points can be placed in this skill.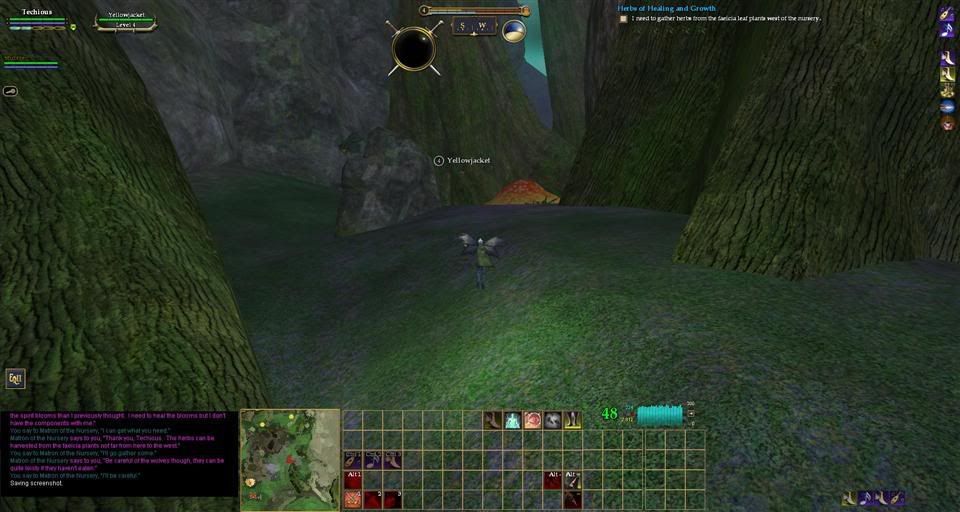 First named creature to kill as part of a quest - Yellowjacket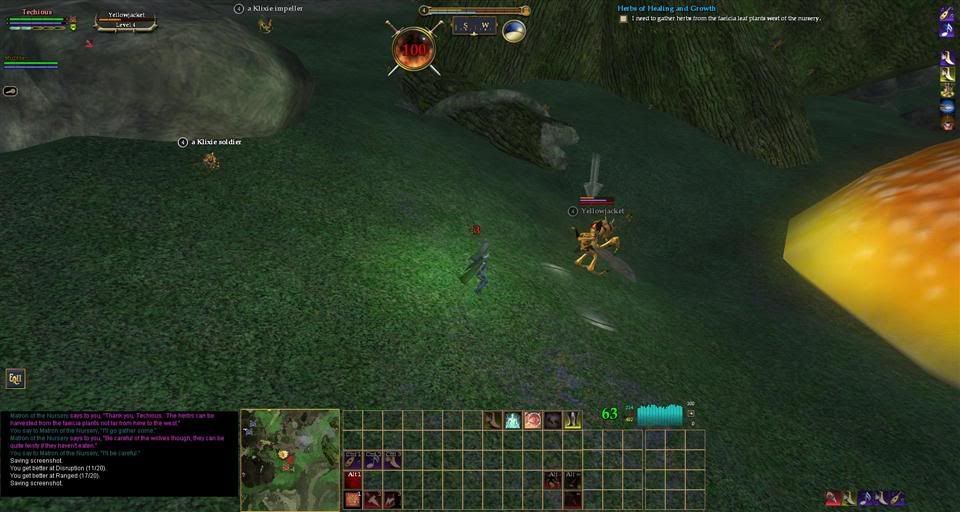 Techious is too awesome for Yellowjacket, Yellowjacket crumbles beneath me
Go Techious!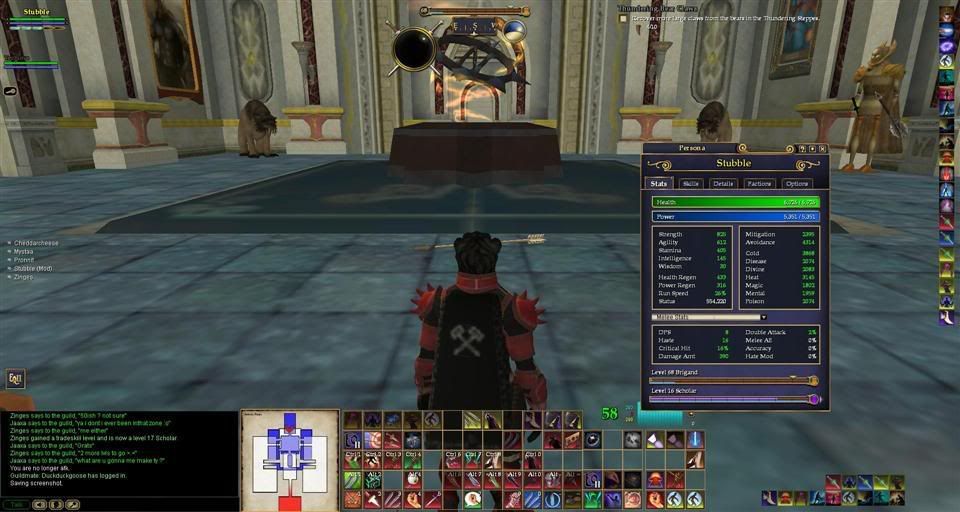 Not quite as good stats as Stubble... but he'll get there!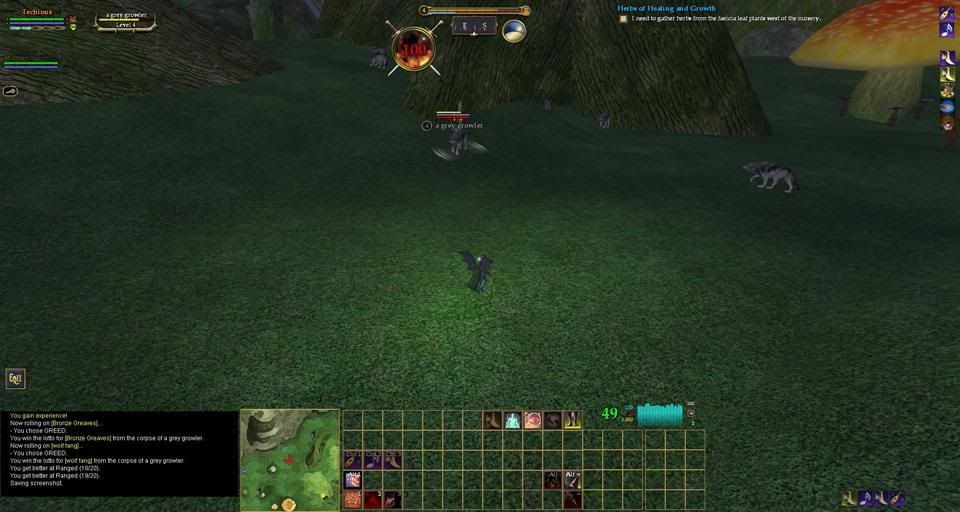 Now killing wolves for another quest.
Maxing out the ranged skill (attacks will almost always land now)
Then hitting Level 5 pretty much straight after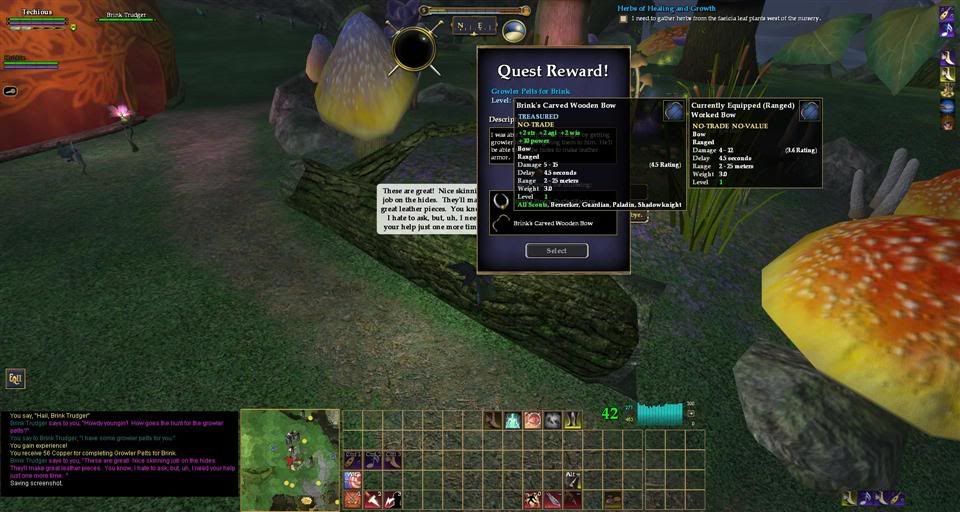 A new bow, a nice upgrade
Some not so exciting gathering
It's a good thing I made this character look swell so I can look at him lots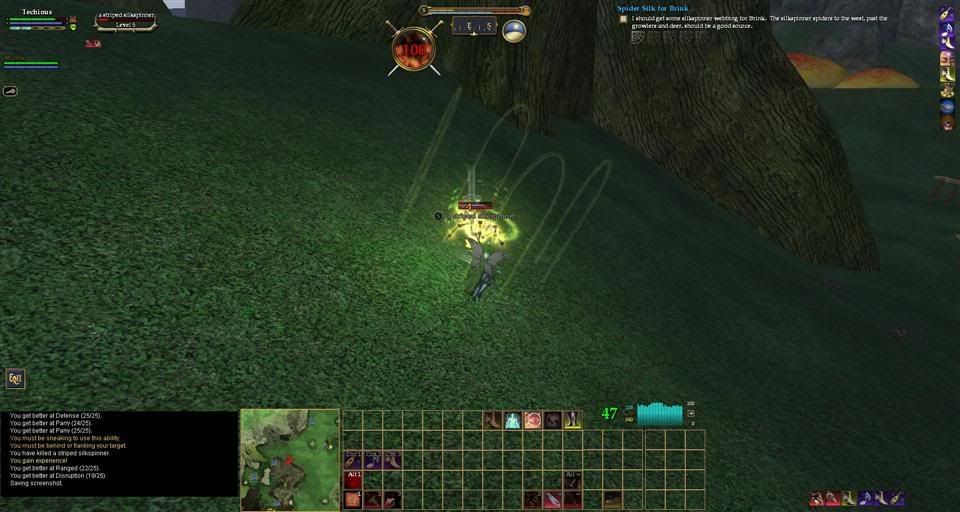 Executing a heroic opportunity for additional damage (the special effect), this opens up at Level 5
Yeah there is a disarm skill too, have it too low and you could blow your groups faces off! Not such an exciting item this time because the spell doesn't work for the Troubador class, but you could sell it to other plays on the broker (market).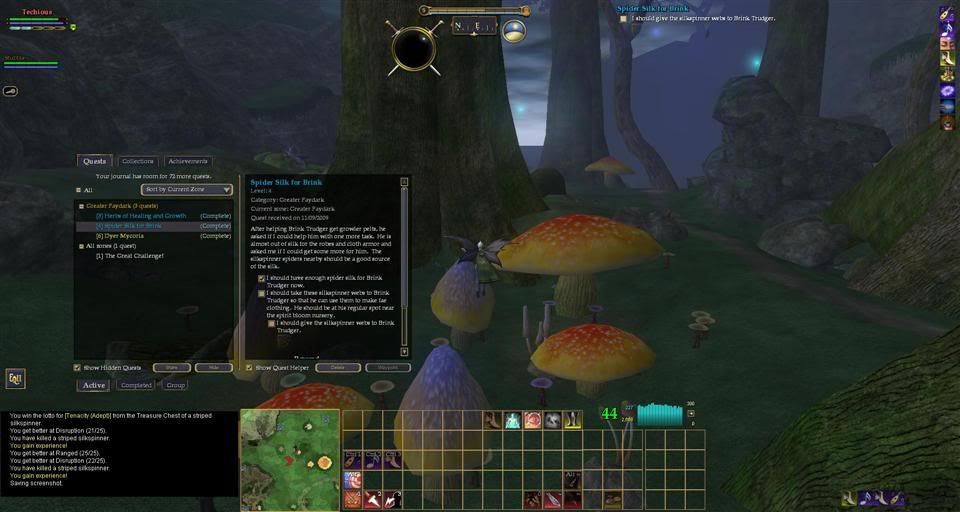 Trying to fly... Fae can float!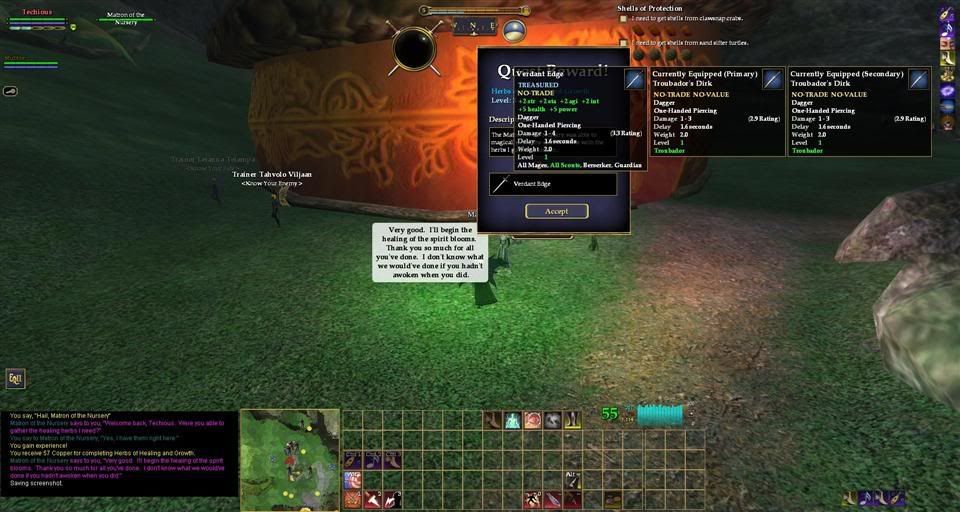 New weapon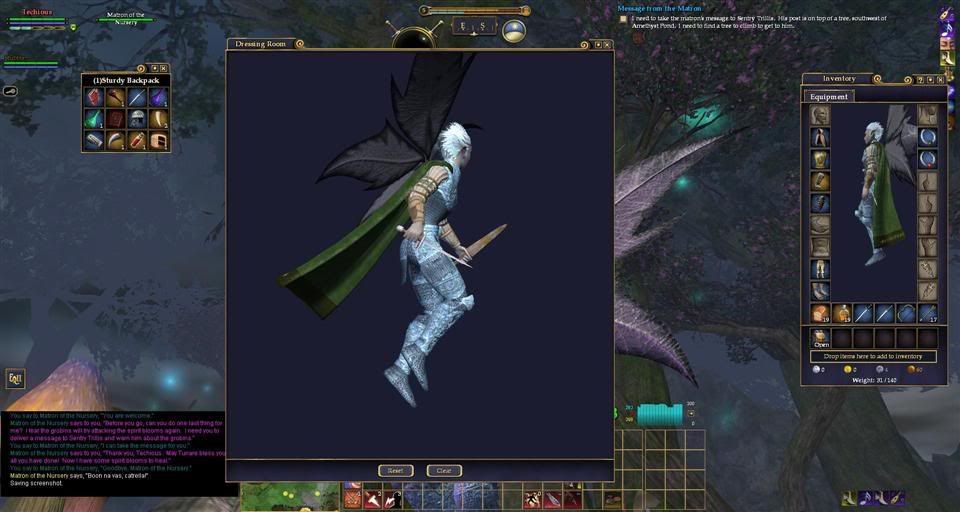 Doesn't look too special
Got a helmet now
Stats are rising slowly
A climbable tree trunk in front of me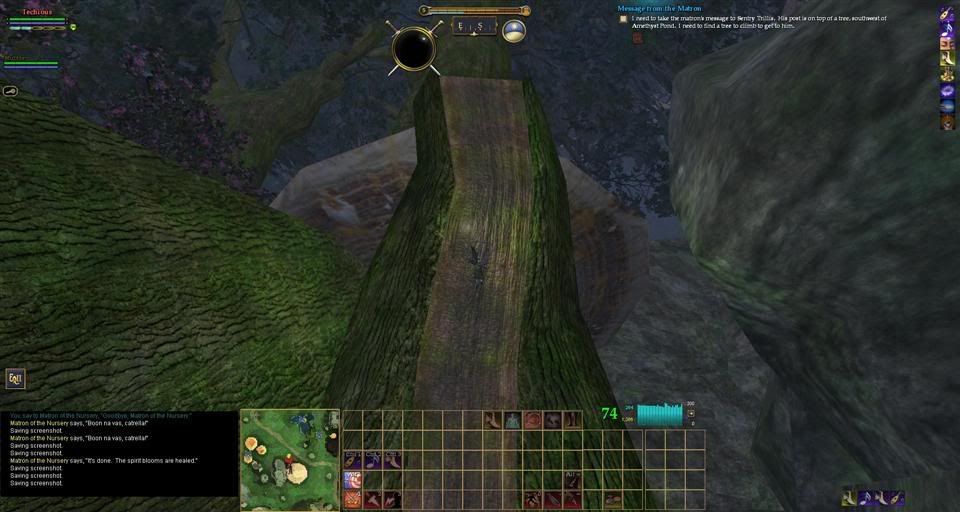 Climbing
Quest hand in on top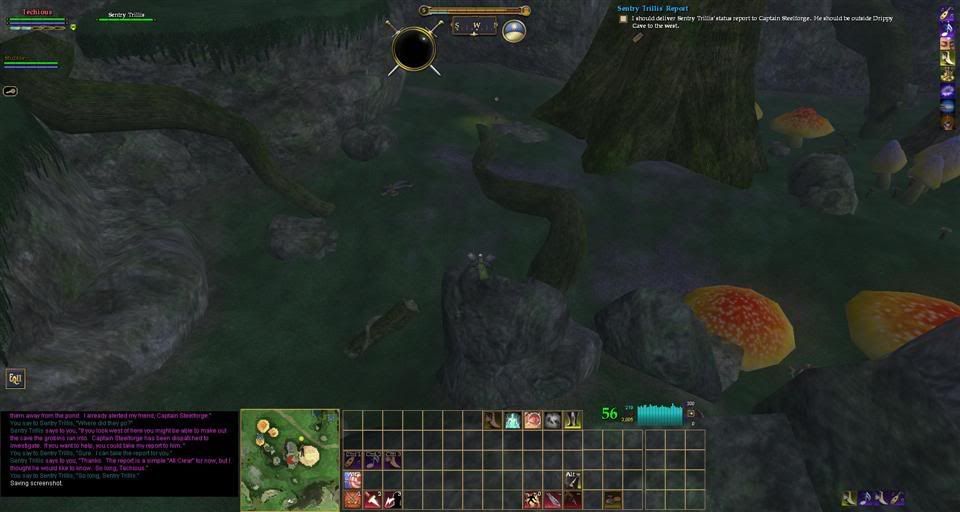 Jumping down to my next quest update in the distance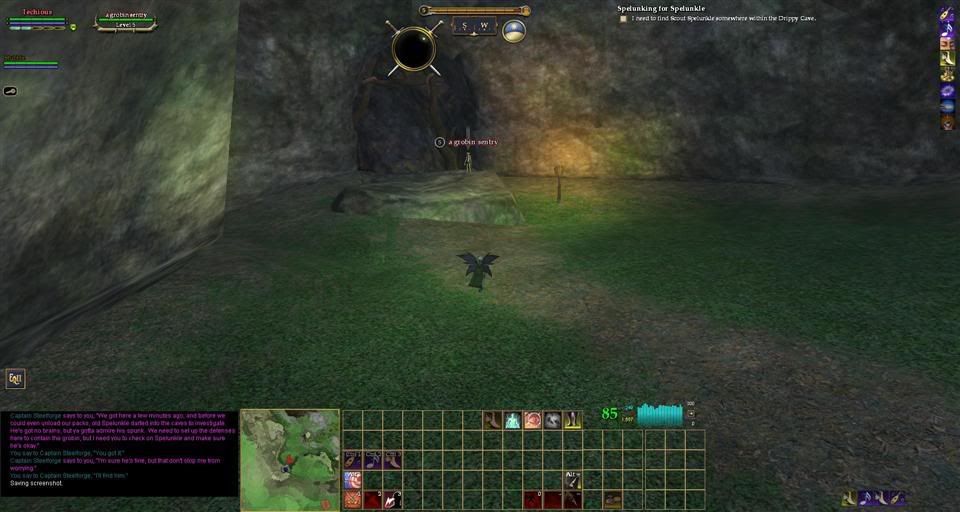 Making my way in to the cave, an aggro goblin guards the entrance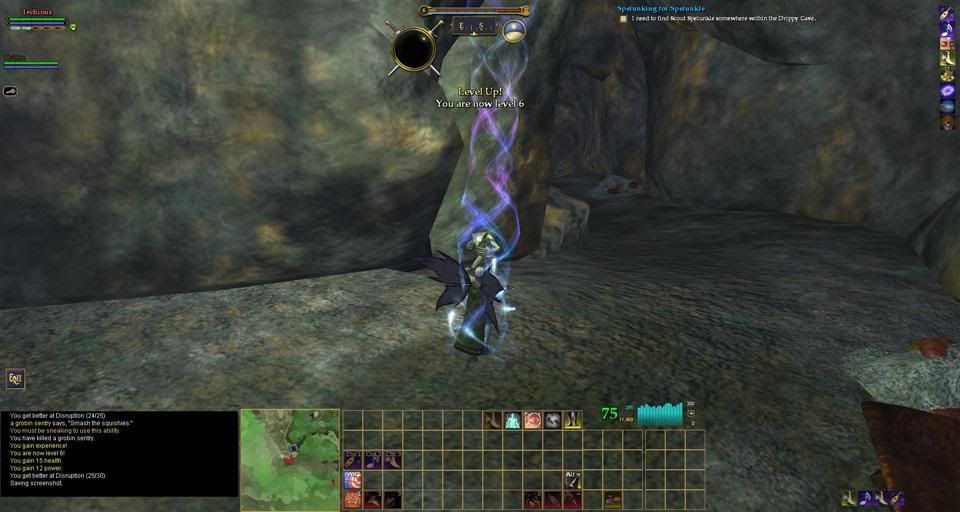 I kill it and get to Level 6.
Getting boring? This is where it changes...
Now Mezi logs in and self-mentors to Level 10 using the newly introduced Chronolocking ability...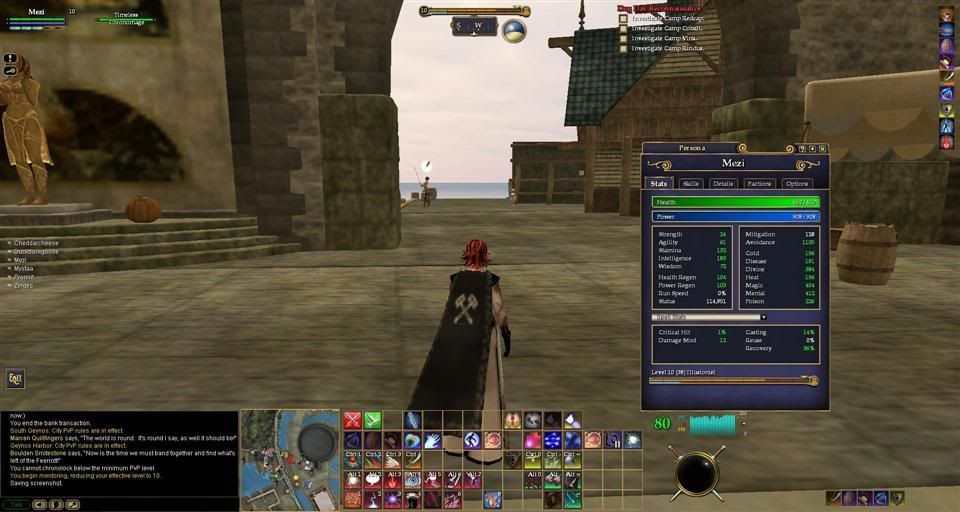 Mezi's stats at Level 10, quite overpowered for the job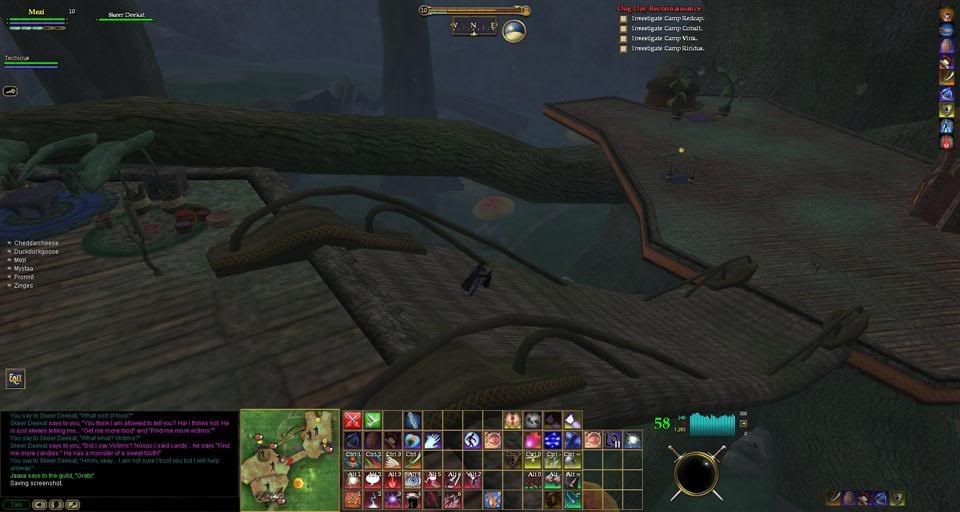 A group is formed with Techious, and Mezi makes her way to see him. Techious is somewhere in the distance...
Making my way out of the tree tops in an acorn lift
A buff that I can place on you, increasing your attack speed by 36%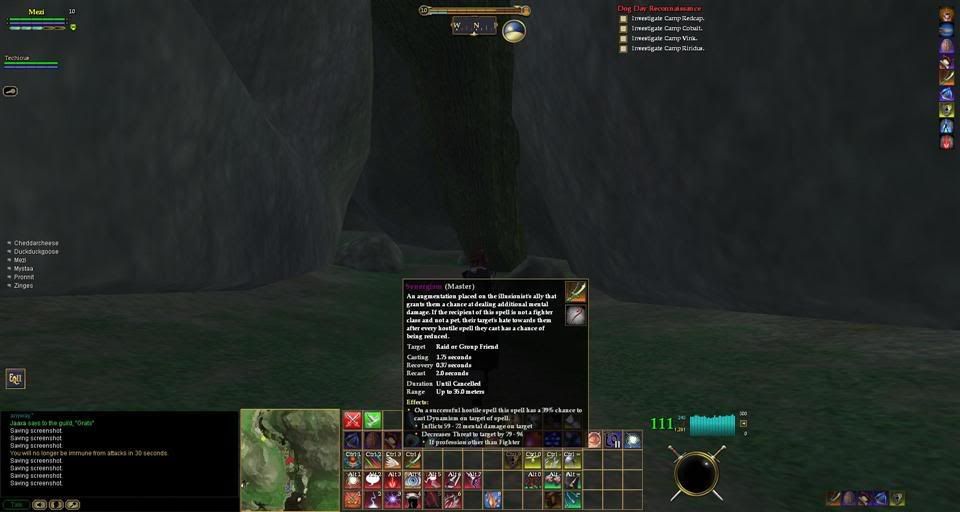 Another buff I can place on you, granting you a 39% chance to inflict an additional 79 to 96 damage on your target, this would be your most damaging ability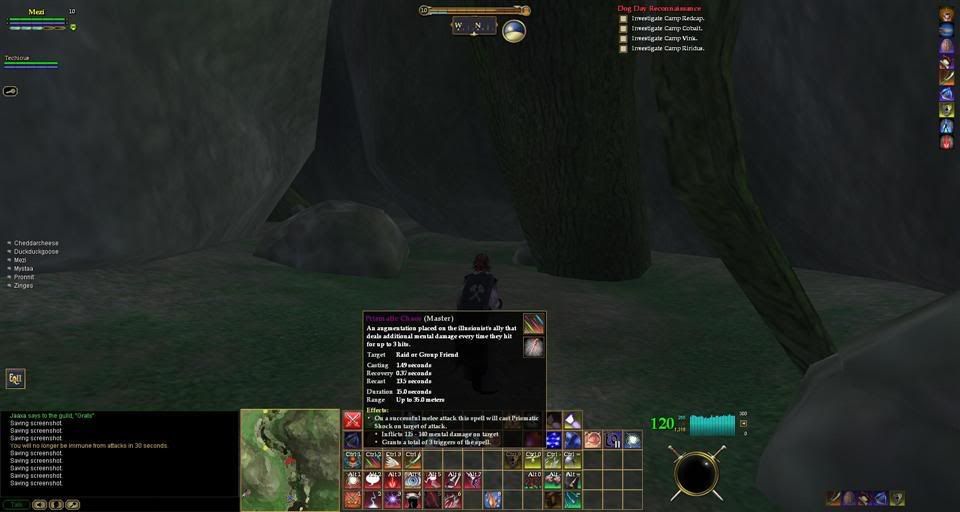 And this is Mezi's highest damage-per-second ability - every time YOU make an attack, I inflict mental damage between 125 and 183 for each hit (15 second recast with 3 triggers)
Time Compression - an awesome ability from my Alternate Advancement lines, allowing me to speed up the casting time, reuse time and recovery time of all abilities for just ONE person, unfortunately I cannot cast it on myself, or I would be too OP!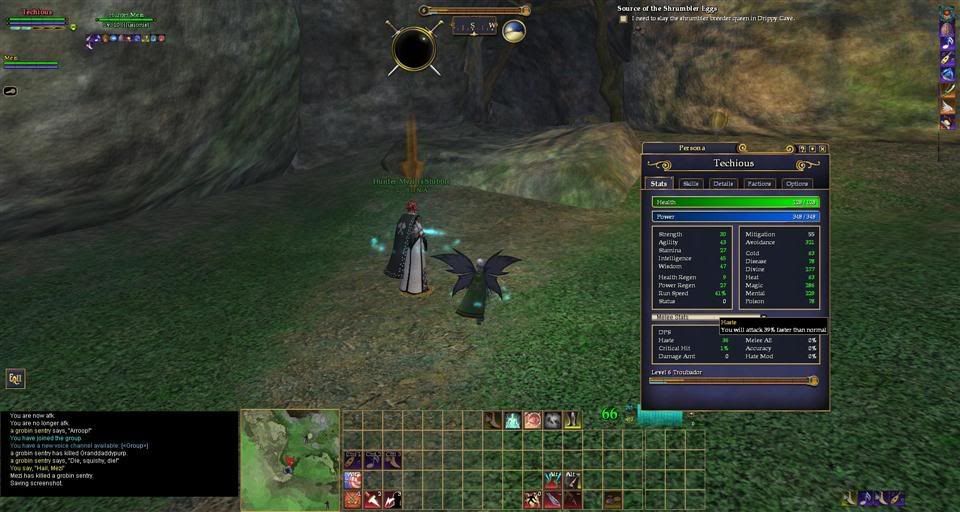 Techious and Mezi meet for the first time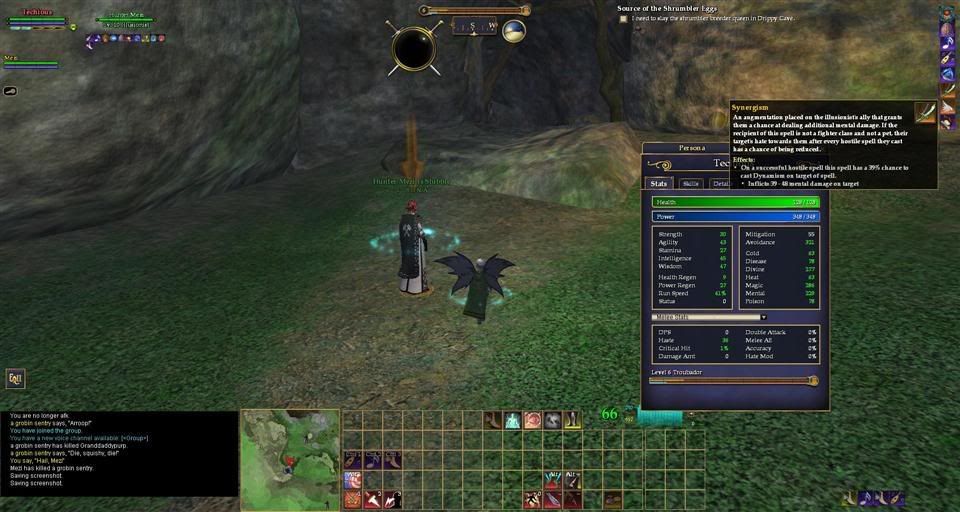 The buffs are cast on Techious, but they scale down to pre-10 damage levels.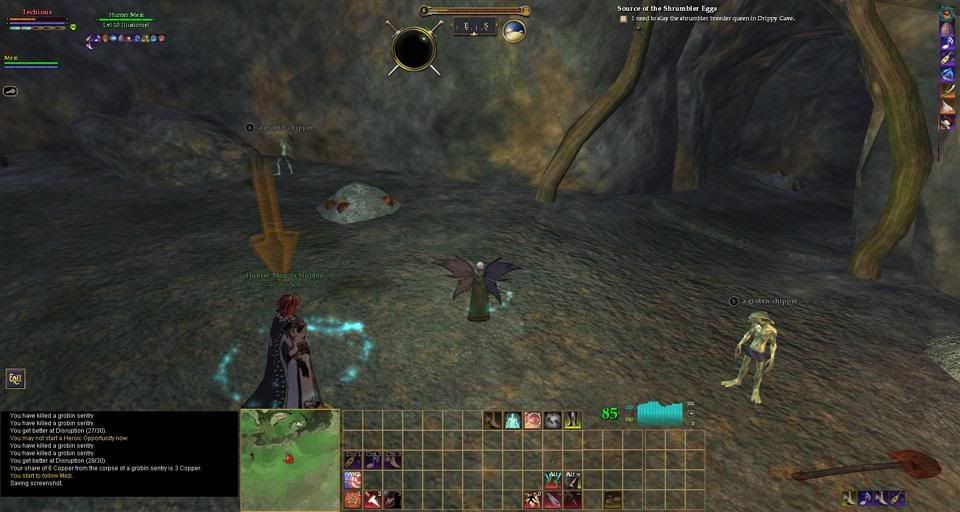 Techious is getting beaten around when he tries to take on more than two things at a time... so...
Mezi takes control from this point on...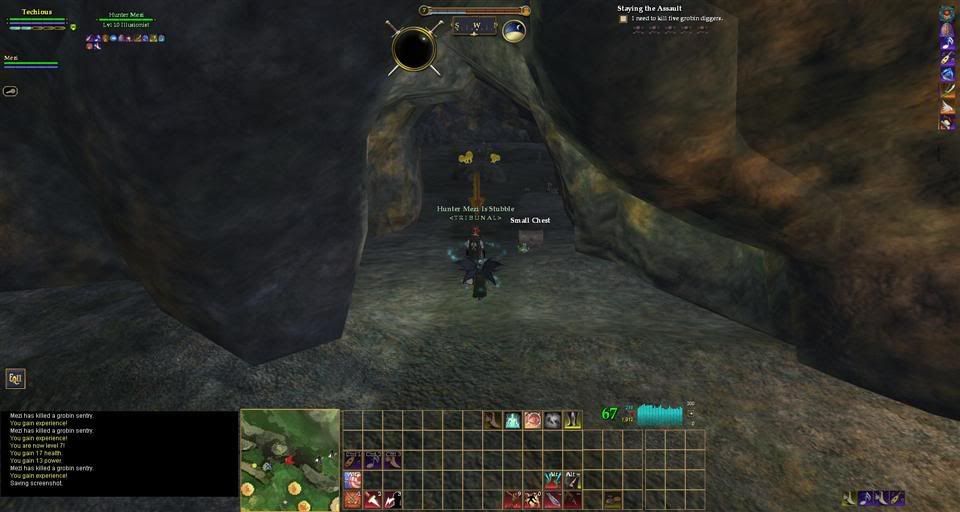 Level 7...
In about 30 seconds, an entire room cleared, and now Techious is about 80% through Level 7 already!
Mezi is fast...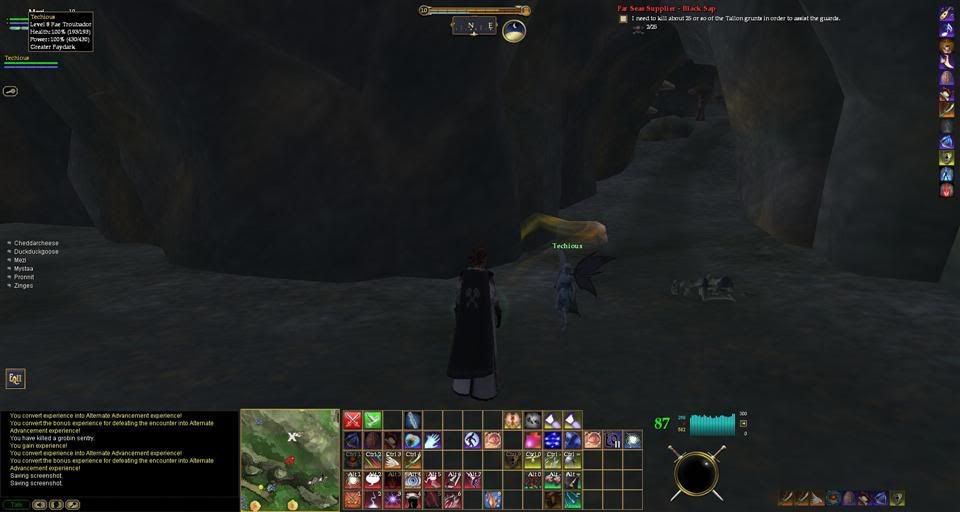 Techious hits Level 8 (hovering the cursor over his name from Mezi's side)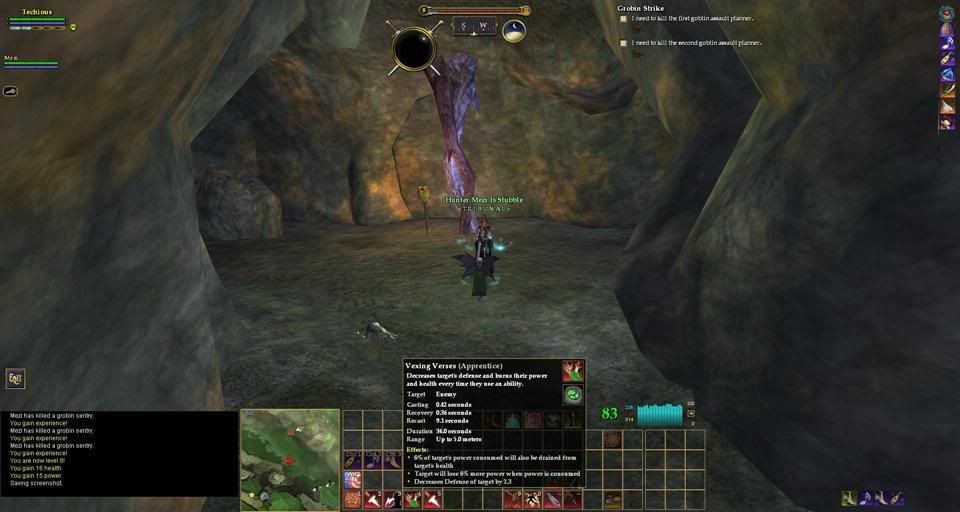 And on Techious' side you can see in the chat window that he has become Level 8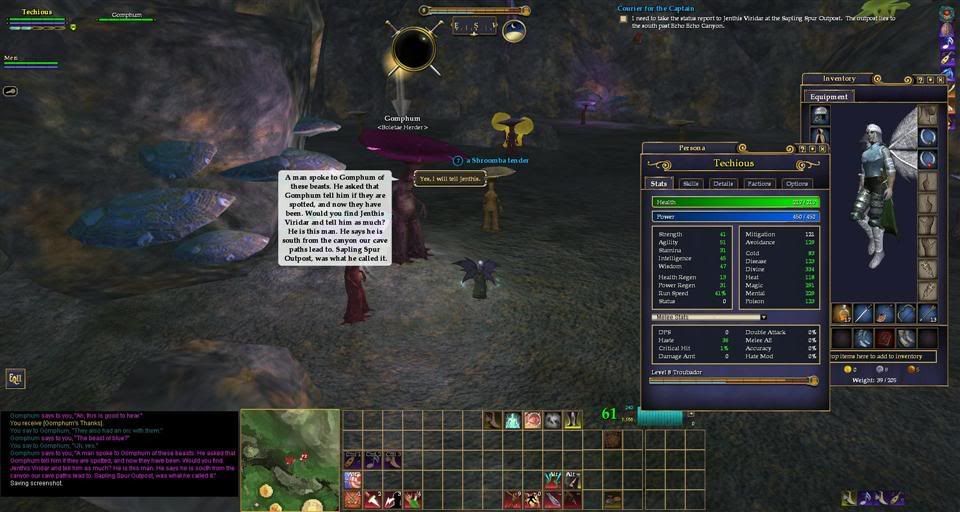 Killed about 10 more creatures and nearly Level 9 (this was less than a minute...)
Handing in the quest outside got Techious to Level 9
Level 10 after just 2 more quests and a bit of killing, taking about 3 or 4 minutes (there was some running around involved)... WOW! Plus a reward of 10 gold which at Level 10 is a large amount.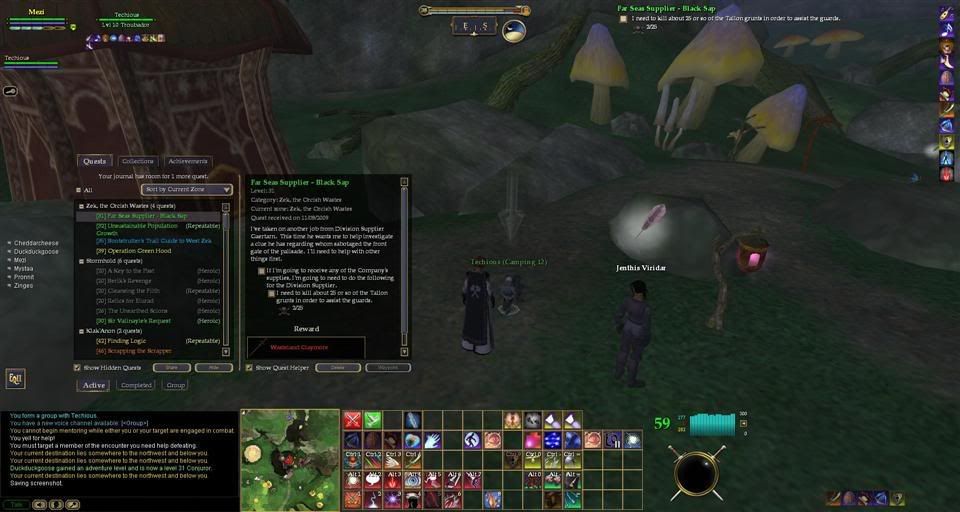 I stop Chronolocking and try to mentor Techious, but encounter my first error of the day... I cannot mentor him, apparently he is in combat...
Techious logs off then back on again...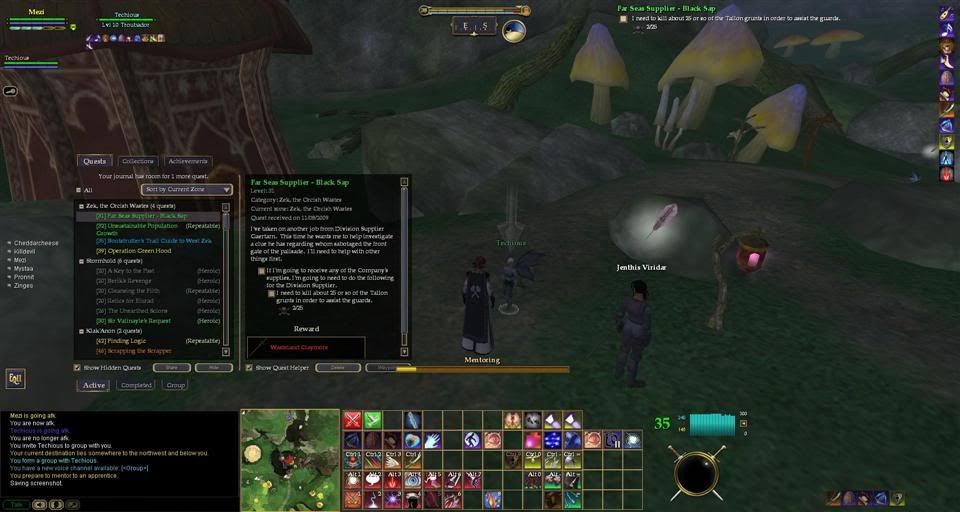 Mentoring works again.
Why have I done this? Mentoring an apprentice grants them a boost to their experience gain, and provides me with a boost to my AA gain!
Mezi can view Techious' quests from her end, and gets straight to the killing!
Oh wait, what the hell!?
200% experience gain when grouped with your good old buddy mister azcn2503!!!
So that's why leveling has been extraordinarily fast!
Somewhere down the line, Techious hit Level 11 and is already 50% through the level!
And is now already over 60% towards Level 13, and grabbing a new weapon...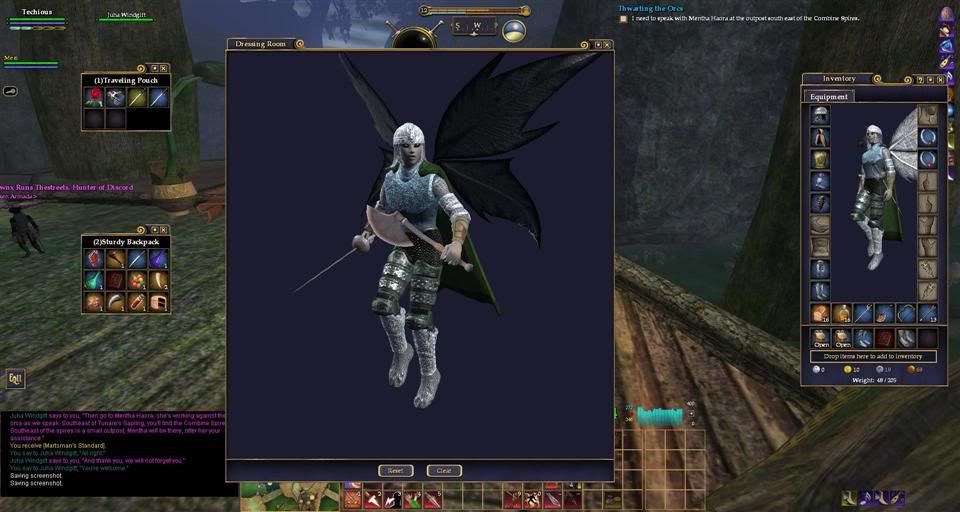 Which still doesn't look cool but oh well... Fairies just don't look awesome I'm afraid
Hope you can join me soon...