This probably likely to be a very long post as to what I'm doing and trying to explain it...
Not really a challenge in the usual sense, but I am attempting to train every Pokemon (excluding legendaries) in the game. I nearly completed my goal before Gen V came out, but failed and now I have slipped back a little because of the increase in Pokemon reducing my completion percentage. I have been keeping track of the majority of this since the start of Generation 3 (this is because I can transfer and keep them in the current gen)...
I'll upload a googledocs spreadsheet or something so anyone can see how far I've gotten. By my maths I am currently sitting at just over 70% for all Pokemon (427/602). 602 is the number of Pokemon excluding Legendaries (Including Birds, Dogs/Beasts, Golems, Fairies and Musketeers).
The current lists for each Pokedex are as follows:
| Region Dex | No. Of Pkmn | Pkmn Trained | Percentage |
| --- | --- | --- | --- |
| Kanto Dex | 146 | 128 | 87.7% |
| Johto Dex | 96 | 73 | 77.7% |
| Hoenn Dex | 124 | 106 | 85.5% |
| Sinnoh Dex | 92 | 81 | 88.0% |
| Unova Dex | 142 | 109 | 76.8% |
| OVERALL | 602 | 497 | 82.6% |
This list is not individual Pokemon, for example I am not training Bulbasaur, Ivysaur and Venusaur separately, just one run with the Venusaur line on my team. As far as I am aware, I have trained *everything* that learns Fly (minus Delibird,
Mandibuzz
and Hydreigon + Legendaries). It just so happens that you don't need fly really in Gen V so that problems solves itself.
Runs through each game:
Sapphire: 3 or 4 (1 Nuzlocke run)
Ruby: 1
Emerald (ROM): 2 (1 WIP)
Diamond: 1 (Storage and Complete dex game 493/493)
Pearl: 5 (1 WIP)
Platinum: 1
Heart Gold: 1
Soul Silver: 7 (1 WIP)
Black: 1
White: 17 (1 WIP)
Just for the hell of it I've made cards using an external website

I'll only put a few down from my favourite teams though (not all the cards I made).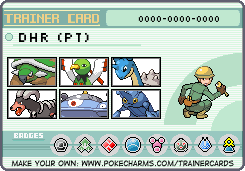 So yeah I'll be periodically updating this as I get through more and more and then basically I can complete this challenge before Gen 6 starts

Tbh, this is kind of a place holder before I post this somewhere else

I don't know if the table code will work on other forums though, but still

UPDATE #1: Finished my 9th play on White, will start 10th soon

UPDATE #2: Nearly finished Number 10 on White, special Sandstorm team next
UPDATE #3: Sandstorm team down 12 type team is being played!
UPDATE #4: Added all my new teams and have decided on my final team before BW2 is launched
Spoiler for Trainer Cards!: